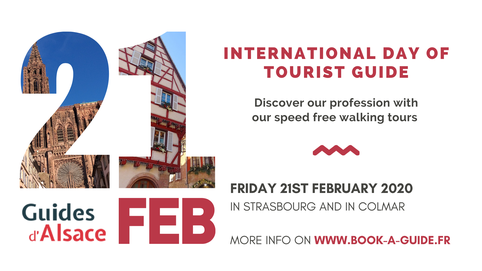 We want to celebrate with you the International Tourist Guide Day. We propose to you a programme of speed walking tours for free to discover the two main Alsatian cities, Strasbourg and Colmar. The Alsatian Licensed Tourist Guides, approved by the French government department for Culture, will be at your disposal.
Date : 21st February 2020
Timings : from 10.00 AM to 12.00 PM
Meeting point : see below
Rates : Free (we love our profession, and we want to share this special day with you)
Speed Guiding
Under the spirit of the "Speed Dating" we propose to you to discover the daily job of the guides of the Alsatian Guild of Tourist Guides and to learn more about the heritage of Strasbourg and Colmar.
Here, you won't fall in love of someone, you will fall in love with the city. You will also know how we work and why do we love our job.
How does it work ?
You can walk in the city by your own. Meet our guides at the spots indicated below to have an explanation about the place you will be in 5-10 minutes. If you have additional questions about the place, the city or our job we will be there for you!
The guides will wear a red element and a sign with the logo of the Guild.
Trust only the Qualified Guides by the French government (we are properly identified and prepared).
Choose your Guide, choose a Qualified Guide